The Year of Living Digitally
Adrian Turpin
5 June 2020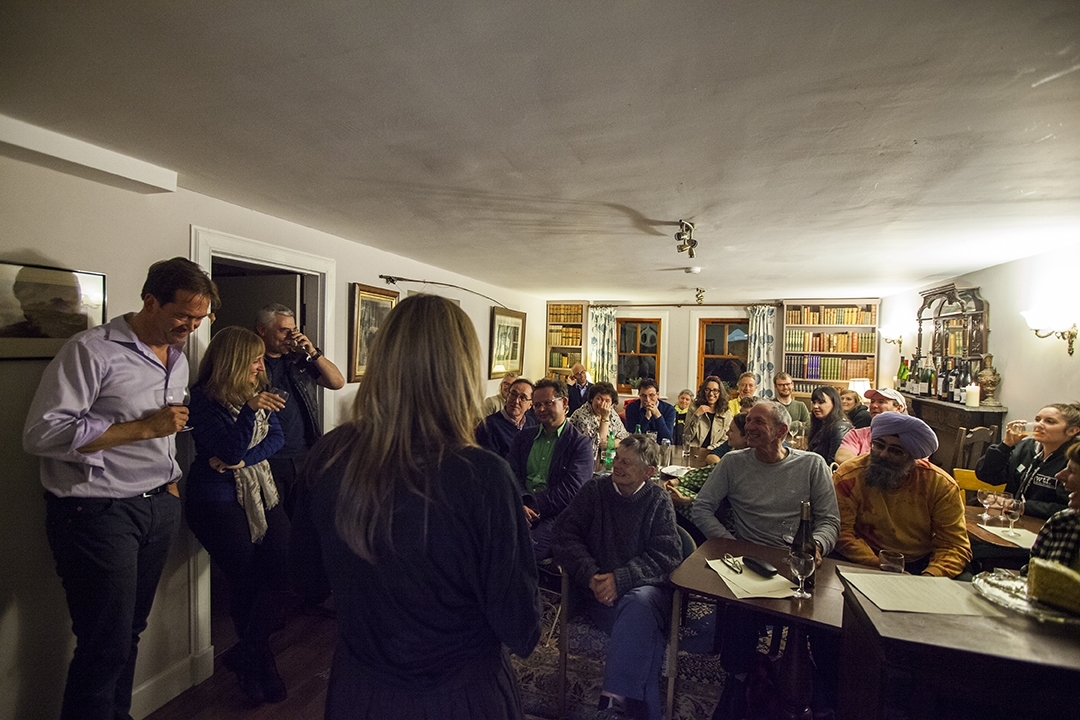 The year of living digitally
Artistic director Adrian Turpin on how Wigtown is facing up to running an online-only festival in 2020. And how the crisis may challenge the very existence of book festivals.
"You wanna be in the room where it happens," goes the line from the musical Hamilton. It's how I always used to feel about book festivals. If I wanted to read a book, I could read a book, and I could find out a lot about an author online. But the magic about literary events was to be in the room where it happens, a one-off alchemy of place and people. It was one reason why at Wigtown Book Festival we rarely filmed events.
And then the virus happened. No room. No people. At Wigtown we swiftly did what has become known as a digital pivot. A viral pandemic which kept most people in doors most of the time, hardly seemed the right time to stay silent.
As well as live midweek events ("the Zoom room where it happens"), we commissioned new writing, began a podcast, created online exhibitions and mined our archive for gold. Sally Magnusson graciously acted as guinea pig for the first one, which more than 100 people attended. Baillie Gifford Prize-winner Hallie Rubenhold and broadcasters Robin Ince, Rev Richard Coles and Natalie Haynes were among those to sign up gamely for future sessions.
Like many cultural organisations, which are run by people with an arts background, for whom online stuff has been at best a bonus and at worst a necessary inconvenience, we learnt on the job, and we're still learning. And, as we grappled with how to make the best of a website not built to be what has in effect become a digital magazine, it became clearer with each day that the 2020 Wigtown Book Festival was not going to take place in any significant physical sense.
The problem wasn't just the obvious issues about audience and volunteer safety. Uncertainty clouded every area, from author availability, to food drink and accommodation, and that was if the audiences wanted to travel. A not inconsiderable number of book festival audiences are over the age of 70, in the protected category. It seemed quite likely they wouldn't want to be in the room where it happened, or anywhere near the room for that matter. So, on Friday we made the jump. This autumn Scotland's National Book Town would be hosting its festival online. We were through the digital rabbit hole.
It will take a little getting used to. In the nicest possible way, Wigtown prides itself on being a determinedly analogue kind of place where the "in person" or "face-to-face" is valued more than in larger communities. When our office is open (it seems like a long time ago now), people are always popping in. A lot of baking takes place. The festival itself never seems more itself than when it involves walks or dinners or stargazing or all the other bits round the literary core. How will that translate into the atomised medium of cyberspace? One of so many questions to answer before the full programme is announced in early August.
When we decided to go digital with Wigtown, we picked on two key themes for this year's event: Resilience and Connection. The former has run through the Book Town like the proverbial stick of rock, from its beginnings as a regeneration project. The dozen or so secondhand booksellers in town are nothing if not resilient, surviving against the odds of the rise of Amazon, and even seeing sales pick up in recent years as more and more people celebrate the vintage and the antiquarian physical book.
For them, the crisis offers a new, possibly existential challenge as it does for many of the other Book Town businesses that rely on tourism. One thing this year's digital festival must do is support them, raising their individual profiles and that of the Book Town and its region, all of which adds a sense of purpose and urgency.
We chose Connection as a theme for a couple of reasons. By virtue of its location, Wigtown has always been a little bit in the margins, though inhabitants of the Royal Burgh might put the pin marking their town firmly in the centre of the map. But with the world in lockdown many geographical barriers dissolve, so long as the rural broadband holds up. While the circumstances are unwanted, a festival online offers new opportunities to look internationally.
One lesson of the crisis is that to be a citizen of the world, you do not have to be a citizen of nowhere. So we will be looking to the Arctic periphery, teaming up with other Book Towns around the world, and reaching across the sea to the island of Ireland. But we'll also celebrate the Solway saltmarsh, explore southern Scotland's distinct literary heritage, champion local writers alongside their more famous colleagues, and give the notorious Wigtown's Got Talent show a digital makeover.
The festival's enforced change of format will not be to everyone's taste - though it's interesting how many of our audiences of all ages have taken to attending our events online. We may lose some regulars, who feel that a virtual festival will be a pale substitution. But with luck we will also attract new audiences from far and wide, "virtual" for now, but inspired to visit Scotland's Book Town in person one day, in happier times.
So I am confident that we can create an autumn festival that has the weft and warp of Wigtown. I wish I could say I felt as sure about the future of festivals, and indeed the arts, generally. Anyone who says they know what the field will look like in six-month's time, let alone a year, is a liar. But we can make a few guesses.
Finding ways to charge for digital events will continue to be tough, and this will increasingly become an issue. (Writers and moderators still need to be paid for free events.) Public money will almost certainly be more scarce for culture, with vital Lottery funding reported to be down more than 50%. Many organisations will be stretched, especially following the end of the furlough. Audiences, sponsors and the charitable trusts and individuals who underwrite so many festivals will have less disposable income.
Until a vaccine is available, book festivals - with their older audience demographic - are likely to be disproportionately disrupted. Even if social distancing can be achieved, audience confidence may be slow to recover. Plus festival-going is habitual: how many may lose that habit with no physical location to gather?
This year's torrent of online literary events - from the BBC-backed Big Book Weekend and Hay Online to publisher-organised "virtual" tours - also raises a question. Will publishers - who are facing their own financial trials at the moment - be so keen to send authors hither and thither across the country when they've tasted the possibilities of online?
As I write it, I'm taken aback by the doominess of this list. Yet I can't help continuing to feel optimistic about Wigtown. It all comes back to that theme of "resilience". The little town that could has been through too much to give up easily.
Like the other festivals most like to survive and thrive in the new literary landscape, Wigtown has a few strings to its bow, from working with young people, to mentoring writers and joining with partners from across Europe to develop new approaches to literary tourism. All that will be invaluable as we make the case for our worth in future
But more important still is the reality of a unique community brought together by the power of books. If we get it right, a digital festival will only make that stronger.
Adrian Turpin is the artistic director of Wigtown Book Festival. A version of this piece appears in The Herald, 6 June 2020.