Marty Jopson's 'wiggly monsters'
18 February 2022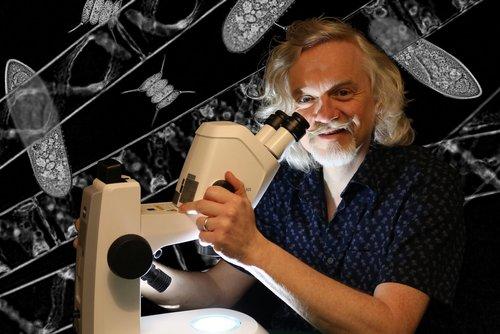 Do you believe in monsters? Well you should, because they are real and they are all around us.
Even more alarming is the fact that it takes special kit to see them – the kind of equipment that TV science communicator and author Marty Jopson is an expert at using.
And one of the beasts that he plans to reveal to his audience at this year's Big Bang festival of science and astronomy is the Hydra.
Here are just a few of its features:
They are ferocious hunters with deadly poisonous stinging cells
They are some of the fastest things on the planet
Like Terminator, they can be smashed to bits and simply regrow
They do not age – so could live forever
They glow a livid shade of green.
So just be grateful that they are microscopic.
These and many other "wiggly monsters" will feature in Marty's in-person event at Moat Brae, in Dumfries, on 12 March. It's called Invisible Worlds and is a fun introduction to the wonders of microbiology aimed at children aged 7+.
Marty is known to millions for his appearances on BBC's The One Show, and a multitude of other shows, and he is also the author of several popular science books for adults.
However, he loves working with children and young people.
When Big Bang caught up with him he said: "I love working with children and young people, it's very satisfying as a communicator. The great thing with the younger children is their unbridled enthusiasm. If you have an audience of eight or ten year olds they get very excited and it's a joy to engage with them.
"Whereas when you get to GCSE and above it's different. You can stretch them more, go more places, bring in more of the science."
One of his concerns, however, is that there is too little science in the school curriculum and that many children and young people will lose out further due to the pressure the pandemic put on the education system.
Right now he is developing a school visits project to help compensate.
Based in Yorkshire, he is looking forward to heading north again – indeed, he has fond memories of Scotland as the place where his career in science communication got started back in the 1990s when he began hosting events at the Edinburgh Science Festival.
There was quite a lot of outreach work and he recalls jumping into a car and driving out to Ayrshire and elsewhere to deliver talks in schools.
Marty also has strong memories of Stranraer where, about 15 years ago, he was setting up a spectacular TV science demonstration which required large amounts of hydrogen peroxide to set off a spectacular foaming chemical reaction.
He said: "We suddenly found ourselves without any hydrogen peroxide, the crucial element, and everything depended on it. I released that hairdressers use it a lot, so ended up going round every salon in Stranraer. They must have thought it was very weird, this long-haired, bearded bloke turning up and blagging a bottle here and half a bottle there."
While he's not planning to do that particular demo in Dumfries – Marty will arrive with a whole menagerie of marvels to go under the microscope – and be projected on screen at huge magnification.
So just for a while, you can imagine what it would be like to live in a universe of monstrous woodlice and spiders – a universe that is, in fact, very real and under our fingertips at all time.