An Interview with Ellie Robinson
Multi-medal winning Paralympian Ellie Robinson talks about her debut novel Gold Medal Mysteries.
29 March 2023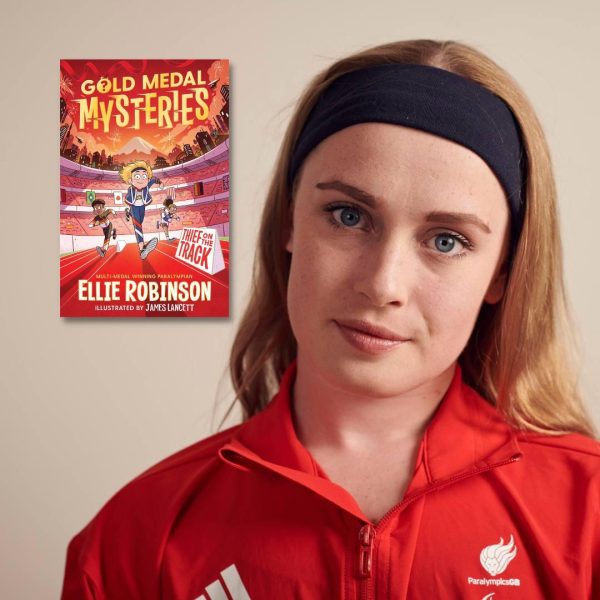 Audiences for the Big DoG festival in Dumfries this weekend will be the first in the world to be able to buy Elie Robinson's new book Thief on the Track. We caught up with the multi-medal winning Paralympian swimmer to find out a bit more about her new role as a children's author – and the book itself.
Tell us a about your book and its inspiration
It's the first in a three-part series called Gold Medal Mysteries in which our three heroes solve mysteries at international sporting events. In this case Hannah, Maria and Seb start investigating when a gold medal is stolen at the World Championships in Tokyo. The missing medal belongs to Jesse Owen, star runner of the US relay team.
Jesse Owen was the name of one of my great heroes – the Black American who won four gold medals at the 1936 Berlin Olympics. I wanted to pay tribute to the amazing achievements of someone who is still very much an unsung hero. I'm really interested in history as well as sport and it has been great to find a way to combine the two.
Were you a keen reader as a child?
If you'd asked my school librarian, they'd have told you that I was far from being a bookworm. But when I found something I liked I'd finish it really fast and be grabbing the next one, and the next one if it was a series.
There was a spy series I enjoyed, The Gallagher Girls by Ally Carter – fast-paced, thrilling books. That's what I've tried to do with Gold Medal Mysteries. I loved anything remotely psychological, historical that drew on human interaction and emotions. I definitely liked character driven plots.
Is there a gap in the market for more children's fiction with a sports connection?
For a long time it seemed that people thought you're either sporty or you're into books, and there's no in between. I think it's not actually an accurate reflection of children in society. 
You can be into sport and into books as well. My 12-year-old cousin is football mad and while he's not a massive reader he can't put a book down when he finds one he likes. So it's really important for children to be able to find books that resonate with them.
You have had an illustrious career in sports, now you write books, what does the future hold?
I'm writing this series and definitely want to continue with writing, in whatever form that may take, be it novels, scripts or anything like that. I'm also taking a degree in history, which is something I've always loved. I really like writing and I'm also very interested in politics. Maybe that's a possibility – perhaps I can find a way to combine the two.
Ellie Robinson, Gold Medal Mysteries, is in The Garden Room, Moat Brae, 12pm, Saturday 1, April. Suitable for ages 7-12. Tickets are £3 and can be booked here.

The book is published on 13 April, but copies will be available at the event.