Take a trip with the Joy and Light Bus Company
Alexander McCall Smith
8 September 2021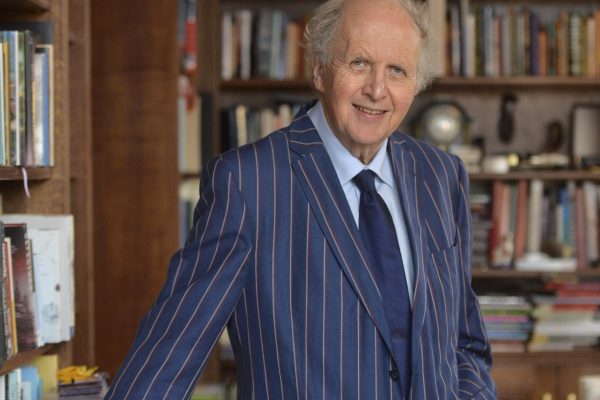 The annual conversation with Mma Ramotswe is something Alexander McCall Smith says he looks forward to tremendously.
The enormous popularity of his No 1. Ladies' Detective Agency novels suggest that it's something his readers enjoy just as much.
He will be updating fans on her latest adventures (The Joy and Light Bus Company) at this year's Wigtown Book Festival.
The plot revolves around Mr J. L. B. Matekoni's new business venture and, according to the author, is intended to be an uplifting read.
McCall Smith says: "I suppose the title is significant in this book, and I think we probably all feel rather in need of a bit of joy and light at the moment."
And even though it's book 22 in the series he fully expects the agency to enjoy a long future, saying: "I'm so used to having an annual conversation with Mma Ramotswe. Each year there she is, we're back and I write a book. So I intend to continue with those conversations as long as I can."
While not having been able to visit her homeland of Botswana for some time, it's a country and society for which he has a deep and enduring respect.
It's a place where he has encountered immense decency, kindness and generosity as well as what he identifies as a "spirituality".
McCall Smith will also be discussing another novel during his Wigtown appearance – Pavilion in the Clouds, partly set in Sri Lanka (then Ceylon) in the 1930s as the threat of fascism overshadows the world and twilight falls across the British Empire.
It's a story that has its origins in his first visit to the country. He says: "You're struck there by visible signs of the Scottish involvement in the tea industry, like the names of some of the tea estates. You suddenly see a sign saying The Edinburgh Tea Estate and realise that an awful lot of people from Scotland were very, very much involved in it."
As well as the place he was also interested in the era – "I think periods of historical change or imminent change are always are always quite striking. Change was in the air. And of course, there was a sense of imminent peril with the rise of fascism in Western Europe." 
Without drawing direct historical parallels McCall Smith feels that this sense of crisis is something that has echoes today – in a period where a world that had previously felt boundless suddenly contracted and was filled with danger.
He said: "There were a lot of things happening and people were living their ordinary lives against the background of fairly dramatic change and major world events. 
"And we will look back at this current period as one which involved a real turning upside down of the world and many of the features we had become used to."
You can hear more from Alexander McCall Smith at his book festival event. You can purchase your own copy of The Joy and Light Bus Company from our online bookshop.