Dr Quin, Medicine Man
Dr John Quin
16 September 2021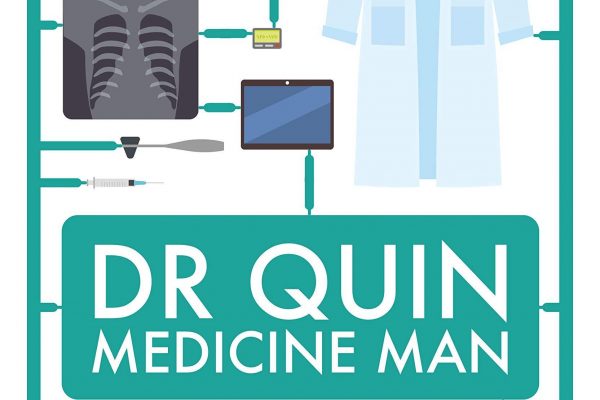 "You only get one shot at life" is a phrase Dr John Quin uses a number of times while talking about his career in the NHS and his many subsequent projects as a writer.
On the phone from Berlin, where he was working on an arts review, the former hospital physician (specialising in diabetes and endocrinology) added that he had enjoyed "a fantastic career" that was "really challenging and sometimes really difficult".
It's these challenges and difficulties, plus funny incidents and moments of intense tragedy that fill the pages of his book Dr Quin, Medicine Man, which he will be discussing at this year's Wigtown Book Festival.
His career began in Glasgow in the early 1980s at a time where (despite a sense that the NHS was coming under political and ideological attack by the Thatcher government) there was an optimism and purpose among medics. There was also the sense of challenge as those involved in healthcare struggled to get to grips with a new, devastating and poorly understood disease – HIV AIDS.
Dr Quin contrasts this with a pessimism that he feels pervades the profession today. This is something that was fostered by a decade of austerity and is now tinged with a considerable scepticism when the same politicians who spent years diminishing the health service now present themselves as its champions in the face of the COVID pandemic.
The book is very much about the direct experiences faced by doctors (the joy and reward of getting a diagnosis right, the disaster of getting it wrong) while offering acute insights into the frustrations and tensions of working in a chronically underfunded system. And then there are strange experiences like tackling fraudulent medical students.
It differs in many ways from the traditional medical memoir – less of the "sensationalism" of dashing doctors charging to the rescue and more of the sheer humanity of the NHS staff.
And as someone whose 33 years in medicine were split between Scotland and England he is a wry observer of some of the cultural differences. In England when a senior doctor led a ward round they would get one of the trainees they had in tow to record what they said at each bedside. In Scotland you took your own notes.
On the other hand, in England there was no sectarianism and far greater diversity. Dr Quin said: "It wasn't a case of English hospitals doing things better or worse than Scottish ones. What I've tried to bring out is the cultural differences between the two groups of doctors. 
"For example, when I was in medical school, there was, I think, one Sikh in my year of 200. When I went to England, maybe 40% of the medical students I was teaching were Indian - and Indian women. It was a much more multicultural environment and in many ways a more stimulating and positive environment."
In his mid-40s Dr Quin began to find success in a very different field – reviewing art and music for everyone from The Guardian to ArtReview, frieze and The Quietus. As time went on he wanted to spend more of his time pursuing this other side of his life.
This has led to retirement that is enormously busy, but pleasurable and free from the sheer intensity of being a hospital doctor. As he says: "I'm pleased to be retired in the sense that you only get one shot at life and it's really good to breathe out and do other things."
Join us for John Quin's Wigtown Book Festival event. You can buy copies of Dr Quin, Medicine Man from our online bookshop.